• Wrought iron elements, such as cabinet pulls and spice racks, have that rustic feel, and stainless steel storage containers, like canisters and bread boxes only add to the ambiance.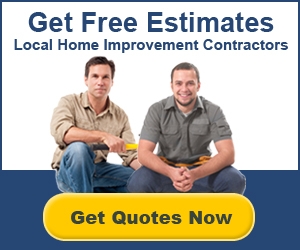 • Sinks and fawcets come in many styles that visually recreate a farmhouse feel, while offering new, green materials and flow rates that make sense for today. There's a lot out there.
• Rolling butcher blocks, carving boards made of stone or wood and butcher block countertops can add functionality and ambience to the natural feel of the log home kitchen.
• Besides butcher block, there are several other choices for your countertops. Travertine, solid surface, stone and even cement are available with surfaces and colors to excite your frontier spirit! Green countertops, made of recycled materials are not only wise choices, but many look like they came right off the wild prairie.
• Backsplashes allow you to add even more style. There are glass mosaic tiles in greens and browns, river rock and—here's something you may not have thought of—a tin backsplash (right), which would absolutely bring a rustic appeal.
• The floor should probably at least look like wood, and if you don't want the expense and mess of hardwood, look into laminate flooring. Its extremely durable, easy to clean, warm (no kidding) and comes in a wide, wide range of styles. There's even flooring that looks like its been abused.
Log home kitchens are not for the Hatfields and McCoys anymore! In fact you can pay more to have this look than a standard "modern" kitchen. But take your time, do your research and stay open to ideas. There is more available to you now than ever before! Search log home kitchen or design cabin Kitchen using the Bing Custom Search Box right -> for starters.
… for any questions, concerns or problems on a remodeling or landscaping project, just click the carpenter's pencil above. We'll get back to you within 48 hours with solutions or advice on where to get solutions.
We never charge for help or advice!
Recommended Reads....
Votes 65
Rating: 4 out of 5