Chevrolet Cruze 1G – fuse and relay
The 1st generation Chevrolet Cruze was produced in 2008, 2009, 2010, 2011, 2012, 2013. After restyling in 2014, the Cruze is released with an updated model in 2015, 2016, 2017, 2018, 2019. In our publication, the fuse and relay boxes of the Chevrolet Cruze will be considered with a designation of the circuits and their locations. Separately, we note the fuse responsible for the cigarette lighter.
Engine compartment
Main box
It is located under the hood on the left side of the engine compartment, next to the headlight and battery. Closed with a plastic protective cover. 3 attachments from different sides.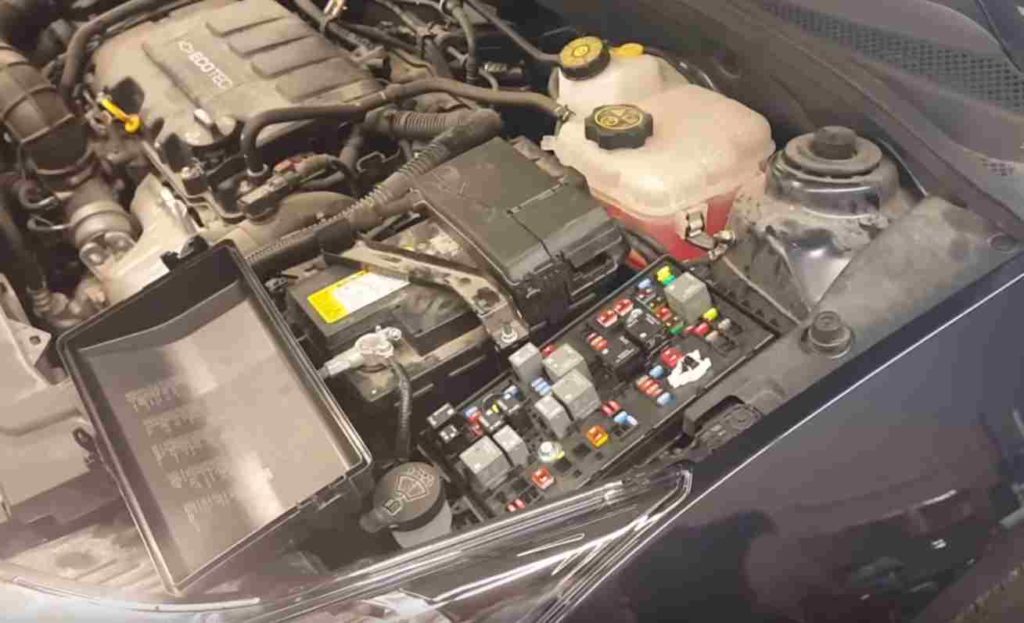 The back of the cover contains the latest information with the description of the fuses. Changes in the presented diagrams are possible depending on the configuration and the year of manufacture of your car.
Diagram
Assignment
№
Protected chain
1
15A Transmission control unit
2
15A Engine control unit
3
Not used
4
10A Canister air solenoid valve
5
15A Ignition
7
Not used
8
15A Fuel injection system
9
15A Fuel injection system, ignition system
10
15A Engine control unit
11
10A oxygen concentration sensor
13
7.5A Adsorber solenoid valve
14
Not used
15
20A Rear window cleaner
16
7.5A Ignition, interior air quality sensor (air conditioning system)
17
5A Ignition, airbag
18
10A Throttle position sensor
19
Not used
20
20A Fuel pump
22, 23, 29
Not used
30
15А ABS
31
20A Body control unit
32
20A The same
33
30A Heated front seats
34
25A Roof hatch
35
30A Audio system
36
Not used
37
10A Fuse for the right headlight high and low beam
38
10A Left headlight high and low beam
39 40
Not used
46
10A Cooling fan
47
10A oxygen concentration sensor
48
15A Fog lights
49 50
Not used
51
15A Sound signal
52
15A Dashboard
53
10A Electric mirror
54
5A Light switch, light control
55
7.5A Folding mirrors
56
15A Windshield washer
57
15A Steering column lock
58
Not used
60
7.5A Mirror heater
61
7.5A Mirror heater
62
10A Air condition
63
7.5A Rear window sensor
64
5A Air quality sensor
65
7.5A Rear fog lights
66
15A Rear window washer
67
20A Fuel control unit
68
Not used
69
5A Battery voltage sensor
70
5A Rain sensor
71
Not used
Fusible links
6
30A Windshield wiper
12
30A Pull starter relay
21
30A Rear power windows
22
Not used
24
30A Front power windows cruze
25
20A Electronic Vacuum Pump
26
40А ABS
27
30A Electronic key control system
28
40A Heated rear window
41
Not used
42
20/30 / 40A Engine cooling fan
43 44
Not used
45
40A Engine cooling fan
59
30A Diesel fuel heater
Relay
R1
A / C Compressor Drive Clutch
R2
Starter traction relay
R3
Engine cooling fan (K7)
R4
Front wiper mode (speed) relay
R5
Front wipers
R6
Not used
R7
Main relay of the engine management system
R8
Fuel pump
R9
Engine cooling fan (K2)
R10
Engine cooling fan (KZ)
R11
Not used
R12
Engine cooling fan (KZ)
R13
Engine cooling fan (K1)
R14
Not used
R15
Ignition
R16
Preheating system (diesel)
R17
Heated exterior mirrors
High power fuse box
It is located on the battery cover.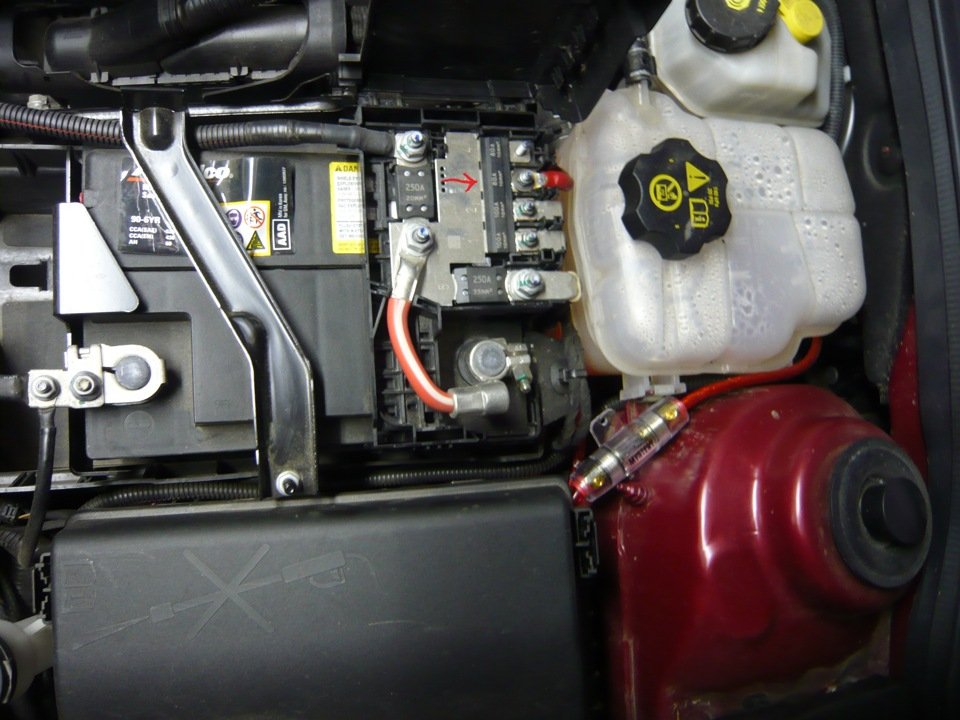 Diagram
Designation
| | |
| --- | --- |
| 1 | 100A Fuse Box – Instrument Panel |
| 2 | 100A Fuse Box – Instrument Panel |
| 3 | 80A Electric Power Steering (EPS) (NJ1) |
| 4 | Not used |
| 5 | 250A Fuse Box – Additional Battery |
| 6 | 250 / 500А Starter motor |
Additional box
Depending on the configuration, there may be a separate unit with a relay under the hood.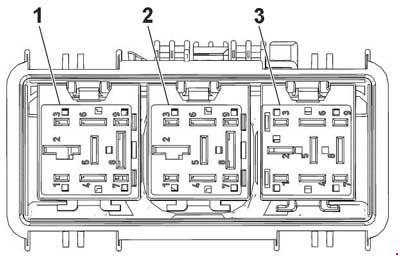 Cooling fan medium speed relay;
Cooling fan speed control relay;
Cooling fan medium speed relay.
Passenger compartment
Fuse box is located in the panel on the left side right next to the driver's left knee.
To access, you need to open the glove box for small items and pull it up. Then you should take the bottom of the box out of the panel stops and pull it out.
Photo
Diagram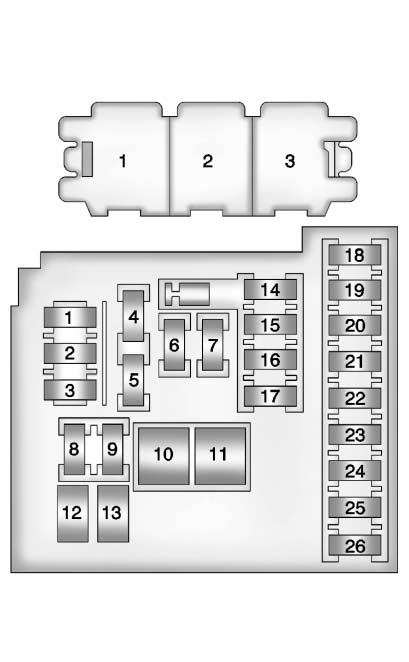 Assignment
1
10A Mobile phone control module
2
Not used
3
25A Body controller
4
20A Radio receiver
5
7.5A Parking aid control module, sound emitter, steering column switch – center console, display
6
20A Cigarette lighter – front
7
20A Socket for additional electrical appliances – center console 1/2
8
30A Body controller
9
30A Body controller
10
30A Body controller
11
40A Door control module – Electric fan
12
Not used
13
25A Seat heating control system module
14
7,5A Diagnostic block, oil supply connection
15
10A Module for diagnostics and control of airbags
16
10A Rear compartment door release relay
17
15A HVAC control unit / HVAC control panel assy
18
Not used
19
Not used
20
Not used
21
15A Instrument cluster
22
2A Ignition switch / door lock remote control signal receiver
23
20A Body controller
24
20A Body controller
25
20A Steering column lock control module
26
Not used
Note: The relays listed below are non-serviceable printed circuit board (PCB) relays and are located inside the unit.
1
Releasing the rear compartment door
2
Logistic mode
3
Auxiliary power supply relay
Please note: the fuse for the cigarette lighter in the Chevrolet Cruze is located in this box at number 6.
We have posted a video on our YouTube channel. Watch and subscribe.
That's all. And if you know how to make this article better, write in the comments.