Citroën C3 III Fuse box
Years of production: 2016 2017 2018 2019 2020 2021
The legacy of some models of cars keeps flourishing due to their top of the grade features. C3 is among those who have all the fresh and funky features. The Citroen minicar is among those cars which are loaded with all-around features. It is a fun car that has different functionalities. If you want to attain a maximum value product that caters to all the needs, this is the proper choice.
Citroën C3: Third Generation
The third-generation Citroen C3 is equipped with all the features that are interactive and attractive. One of the core features of this model has its 7-inch touchscreen with interactive precision to help the user attain entertainment. When it comes to boot space, it has ample space that is apt for a small family. The sense of charm and character this car provides is attractive, and the cute look can lure anyone. The car's interior is equipped with a minimalistic dashboard with a touchscreen that holds the crux. It provides a funky feel. The smaller air bumps help the strap door pulls, which is an innovative approach. The availability of narrow LED driving lamps helps the overall look to charm others. It is available in different colour contrast.
The whole chassis holds the car's crux, which makes it quite redundant and helps in getting a good driving experience. It comes with 109bhp 1.2-litre three-cylinder engine that helps to provide decent performance altogether. With the engaging engine note, one can get a feel of power. When it comes to fuel economy, the company's claim is about 61mpg, which is next to good.
If you are looking for a cute yet economical car in every respect, this is an apt choice. With credible engines and all the relevant features, you can expect maximum value for money from this product of Citroen.
Access to the fuses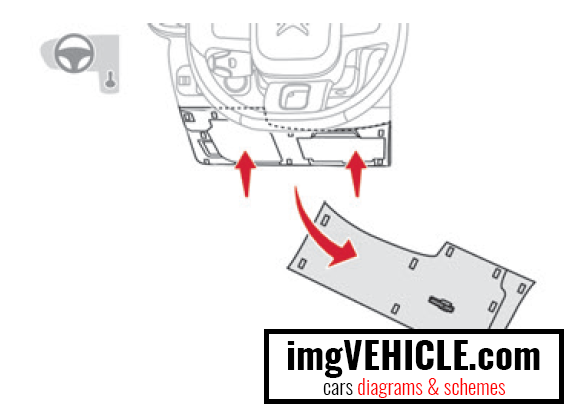 The 2 fuseboxes are located in the lower part of the dashboard, below the steering wheel. The 2 fuseboxes are located in the lower part of the dashboard, in the glove box.
Upper fusebox

| Fuse | Rating (A) | Functions |
| --- | --- | --- |
| F31 | 10 | Heated door mirrors. |
| F33 | 40 | Front electric window controls. |
| F34 | 40 | Rear electric windows. |
| F35 | 30 | Front heated seats. |
Lower fusebox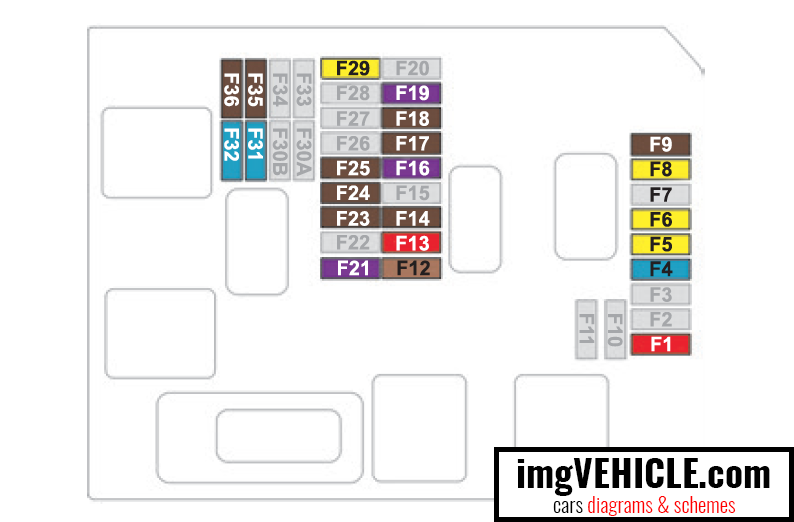 | Fuse | Rating (A) | Functions |
| --- | --- | --- |
| F1 | 10 | Door mirror adjustment |
| F10(+) — F11(Gnd) | 30 | Door and fuel filler flap (depending on engine) locking/unlocking. |
| F13 | 10 | Air conditioning. |
| F14 | 5 | Alarm. |
| F18 | 5 | Air conditioning. |
| F29 | 20 | Telematic audio system. |
| F31 | 15 | Audio system (accessory). |
| F32 | 15 | Front 12V socket. |
| F35 | 5 | Additional heater (depending on equipment). |
| F36 | 5 | Front map reading lamp. |
| F4 | 15 | Horn. |
| F6(+) — F5(Gnd) | 20 | Front and rear screenwash pump. |
| F8 | 20 | Rear wiper. |
Fuses in the engine compartment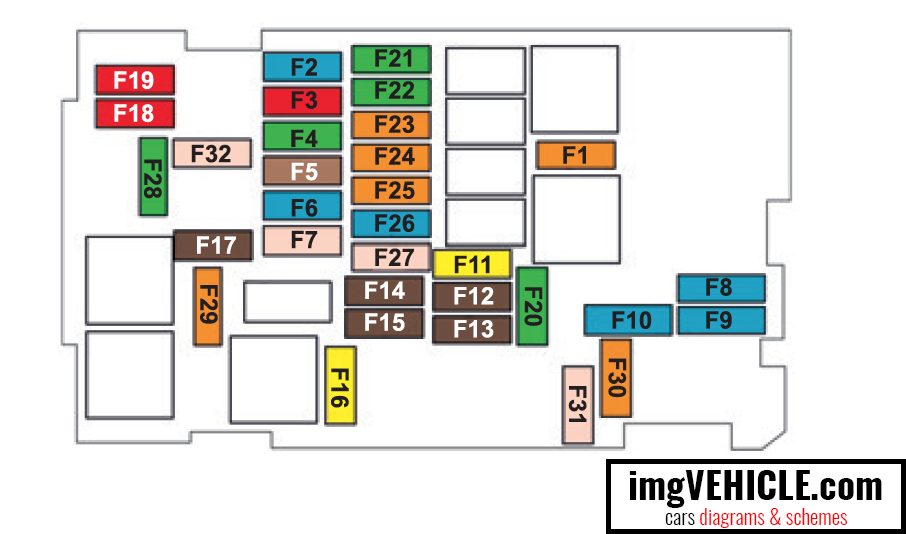 The fusebox is located in the engine compartment, near the battery.
Accessing the fuses: 1. Unclip the cover. 2. Replace the fuse. 3. After the operation, close the cover very carefully to ensure the correct sealing of the fusebox.
| Fuse | Rating (A) | Functions |
| --- | --- | --- |
| F1 | 40 | Air conditioning. |
| F16 | 20 | Front foglamp. |
| F18 | 10 | Right-hand main beam headlamp. |
| F19 | 10 | Left-hand main beam headlamp. |
| F25 | 40 | Trailer attachment pre-equipment. |
| F29 | 40 | Windscreen wipers. |
Carmelo 25-02-2022
Ho una citroën C3 1.5 bluehdi 73kv del 2017 con un codice errore P1632 il fusibile nella scatola vano motore quale sarebbe il fusibile. Premetto che l'auto va bene solo alcune volte si accende e si spegne avaria motore facendo dei steappi