How to fold the front seat down on Citroen C5 ?
Rear seats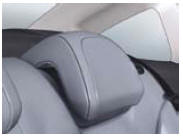 Rear head restraints
The rear head restraints have two positions:
A stowed position for when the seat is not occupied.
A deployed position for safety of passengers, locking into place including for a forwardfacing child seat.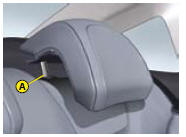 To lower them, press on the unlocking control A.
To remove them, pull upwards as far as possible and press on the unlocking control A.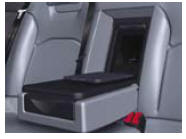 Flap for transport of long objects
A flap in the backrest, located to the rear of the armrest, facilitates the carrying of long objects.
Ensure that the objects are well secured and that they do not impede the operation of the gear lever.
For your safety, do not drive with the head restraints removed; these must be in place, correctly adjusted.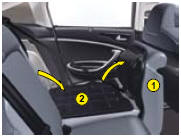 Folding benchseat
The benchseat can either be totally or partially folded (1/3-2/3).
To fold the rear left or right hand seat, always start with the seat cushion, never the backrest (risk of damage):
Move the front seat(s) forward if necessary.
Place the head restraints in their lowest position or remove them if necessary.
Check that the seat belt is correctly positioned by the side of the backrest.
Ensure that you fasten the side seat belts into their buckles (the central seat belt should not be fastened).
Lift up the front of seat cushion 1.
Move seat cushion 1 against the front seat(s).
Pull control 3 forwards to unlock the backrest 2.
Move the backrest 2.
Pinch the seat cushion fixings to remove them from their fasteners.
Fold the backrest 2 back up and lock it into place (the red light on button 3 should go out).
Fold up the seat cushion 1.
Replace the head restraints if you had removed them.
Ensure that the front and rear backrests are correctly locked in place.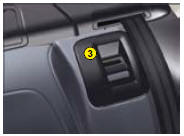 The red light on button 3 should no longer be visible — if not, push the seat all the way back.
Be careful not to trap the seat belt and to correctly buckle each belt, before each operation of moving the backrest. This operation allows you to fold the backrests back up with their seat belts and buckles ready for use by rear passengers.
See also:
Electric child lock
The lighting of the indicator lamp indicates the status of the corresponding function. A. Deactivation of the rear door controls. or B. Deactivation of the rear door and rear elecric window co .
Starting using another battery
Connect the red cable to the positive terminal (+) of the fl at battery A , then to the positive terminal (+) of the slave battery B . Connect one end of the green or black cable to .
«Personalisation-Configuration» menu
Once this menu has been selected, you can gain access to the following functions: — defi ne the vehicle parameters, — display confi guration, — selection of the language. .