Peugeot 307 – fuse and relay
Peugeot 307 was produced in 2001, 2002, 2003, 2004, 2005, 2006, 2007, 2008, 2009, 2010 and 2011 with sedan, hatchback, SW wagon, CC coupe body options. This material shows where the Peugeot 307 fuse boxes are located , their diagrams and designation, highlight the fuse responsible for the cigarette lighter.
In the peugeot 307 there are several possible variants of the fuse boxes and they depend on the model year of the vehicle.
This model has 2 main boxes. One is in the engine compartment, next to the battery. Second from the bottom in the dashboard, left.
Type 1
Passenger compartment
The protective cover must be removed for access.
Diagram Option 1
Diagram Option 2
| | |
| --- | --- |
| 1 | 10A Rear fog lamp. |
| 2 | 15A Rear wiper. |
| 4 | 15A Front windows Ventilation hatch. |
| 5 | 15А Left brake light, incl. and trailer brake light. |
| 7 | 20A Rear lamp, front lamp, spotlight, cigarette lighter, glove box lighting. |
| 9 | 30A Window regulator keys, impulse window regulator keys (not suitable for non-impulse keys), ventilation hatch key. |
| 10 | 15A Diagnostic connector, rear 12V electrical outlet. |
| 11 | 15A Car radio, multifunction display "B", steering column switches, electronic control unit for automatic transmission. |
| 12 | 10A Front right and rear right side lights, license plate light for car and trailer, remote lock control unit, burglar alarm, ESP, hazard lights, ashtray and air conditioning control panel lights, electric seat heating, cigarette lighter, automatic transmission selector lever position contactor, headlight control unit. |
| 14 | 30A Blocking / full blocking of locks, super blocking drive. |
| 15 | 30A Rear power windows. |
| 16 | 5A Engine switch unit, burglar alarm, particulate filter, steering column switches, airbags. |
| 17 | 10A Rear right brake light, additional brake light. |
| 18 | 10A Diagnostic connector, steering column switches, brake light switch and clutch sensor, coolant level sensor, 2nd brake system sensor. |
| 19 | 30A SHUNT PARC. |
| 22 | 10A Front left and rear left marker lamps, car and trailer license plate lamps. |
| 23 | 15A Alarm siren, interior volume sensor. |
| 24 | 15A Instrument panel, car radio, multifunction display, air conditioner. |
| 26 | 30A Rear window heater. |
The fuse number 7 is responsible for the front cigarette lighter, and the fuse for the rear number is 9.
Engine compartment
The block can be roughly divided into two parts.
Diagram
Designation
10A Automatic box reversing light switch, automatic box interlock relay, mechanical box reversing light switch, speed sensor, glow plug power supply unit, water presence sensor in diesel fuel, DW air flow meter.
15A Fuel vapor canister solenoid valve, fuel pump.
10A Power steering electronic unit, ABS or ESP electronic unit.
10A Injection computer, engine cooling fan relay, auxiliary heating relay, automatic gearbox electronic unit, automatic gearbox electronic control unit, automatic gearbox shift-lock relay.
15A Diesel particulate filter sensor.
15A Front fog lamps.
20A Headlight washer pump motor.
20A Engine cooling fan relay, injection computer power supply circuit.
15A Left low beam headlamp.
15A Right-hand dipped beam headlamp.
10A Left high beam headlamp.
10A Right high beam headlamp.
15A Sound signal.
10A Windscreen and rear window washer pump motors.
30A Oxygen sensors, EGR solenoid valve, ignition coil, high pressure regulator of the diesel engine fuel supply system, injector power supply circuit.
40A Electro valve for boost pressure control of the power unit with automatic transmission.
30A Relay for normal and rapid operation of the windshield wiper.
40A Air conditioning motor.
Lower fuse assignment
| | |
| --- | --- |
| 1 | 30 / 50А Group of engine cooling fans. |
| 2 | 30A ESP / ABS pump motor. |
| 3 | 30A ESP / ABS solenoid valves. |
| 4 | 60 / 70А Power supply circuit of the intelligent control unit for switching onboard systems. |
| 5 | 70A Power supply circuit of the intelligent control unit for switching on-board systems. |
| 6 | 20A Heated seats. |
| 7 | 30A Ignition lock with anti-theft system, power supply circuit. |
| 8 | 70A Power steering pump motor. |
Type 2
Passenger compartment
Photo for example of execution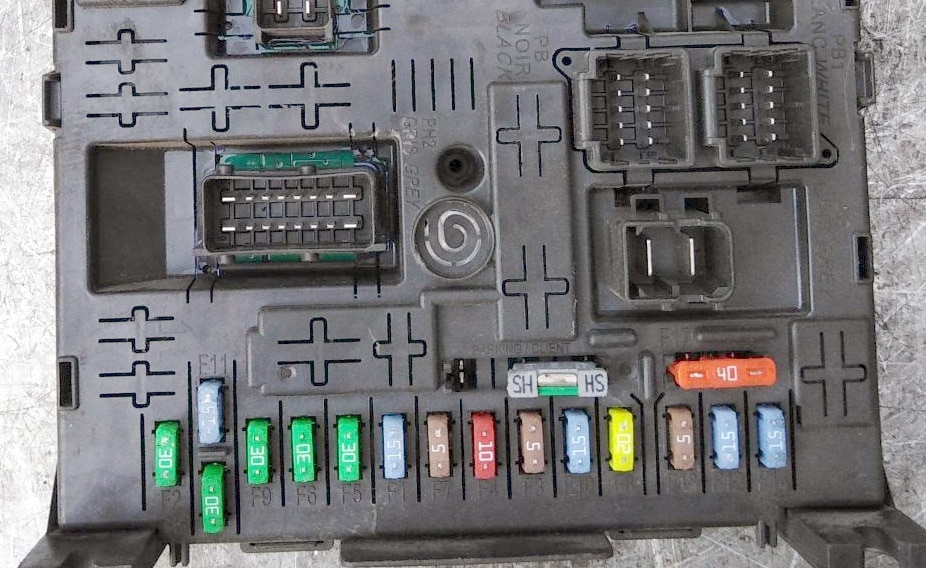 Diagram
Circuits protected
F1 15 A Rear wiper.
F2 30 A System of blocking and super blocking of locks.
F3 5 A Airbag and pyrotechnic tensioner unit.
F4 10 A Contactor for brake pedal (brake light) and clutch, coolant level sensor, flywheel position sensor, ESP sensor, diesel particulate filter additive pump, diagnostic socket, light-sensitive rearview mirror.
F5 30 A Front power windows, sunroof, heated mirrors.
F6 30 A Rear power windows.
F7 5 A Rear and front lamps, individual lamps, glove box lighting.
F8 20 A Car radio, radiotelephone, multifunction display, burglar alarm siren, electronic burglar alarm unit, trailer switching unit, training car module, power supply to the steering column switch.
F9 30 A 12V socket at the front, 12V socket at the rear.
F10 15A Automatic gearbox computer, tire pressure drop monitor, brake light contactor.
F11 15 A Diagnostic connector, particulate filter unit, ignition switch low current circuit.
F12 15 A Driving school module, parking sensors for parking systems.
F13 5 A Engine electronics box, rain and light sensor.
F14 15 A Trailer switch box, instrument panel, electronic airbag and pyrotechnic tensioner, automatic air conditioning, hands-free headset.
F15 30 A Locking and super locking of locks.
F16 – PARC shunt.
F17 40 A Heated rear window.
F39 20 A Heated driver and passenger seats.
For the rear and front cigarette lighter fuse number 9, 30A is responsible.
Engine compartment
Photo for example
Diagram
Designation
20 A Power supply to engine computer and cooling fan high speed relay.
15 A Sound signal.
10 A Front and rear window washers.
20 A Headlight washer.
15 A Fuel pump and canister solenoid valve (on 2.0 l petrol engine).
10 A Processor for four-speed automatic transmission, selector lever lock switch, power window impulse switch, high speed cooling fan relay, left and right xenon headlights.
10 A ABS / ESP computer, power steering pump computer.
25 A Ignition switch, starter switch.
10 A Additional heating unit (Diesel), coolant level sensor.
F10 30 A Components of the electronic engine management system (ignition coil, solenoid valves, oxygen sensors, computers, injectors, glow plugs), adsorber solenoid valve (on 1.4 l and 1.6 l petrol engines).
40 A Air conditioner fan.
30 A Low / high speed windscreen wiper.
40 A Power supply to the intelligent junction box (+ after ignition feed).
30 A Compressor (2L petrol engines).
10 A Right high beam headlamp.
10 A Left main beam headlamp.
15 A Left-hand dipped beam headlamp.
15 A Right-hand dipped beam headlamp.
Separately located F41 – 15 A Six-speed automatic transmission processor. High power (maxi) fuses are located at the bottom of the unit.
Description of maxi fuses (MF)
MF1 30 A Cooling fan 200 W. / 50 A Cooling fan 400 W and 460 W.
MF2 30 A ABS / ESP pump.
MF3 30 A ABS / ESP solenoid valves.
MF4 80 A Power supply for the intelligent breakout box.
MF5 80 A Power supply for the intelligent breakout box.
MF6 80 A Passenger compartment fuse box.
MF8 70 A Power steering pump.
Individual relay elements can be installed outside these boxes.
We have posted a video on our YouTube channel. Watch and subscribe.
And if you know how to make this article better, write in the comments.