Volkswagen New Beetle
Volkswagen New Beetle
Volkswagen AG
aka
Production
October 1997-July 2011
Class
Sub-Compact
Body Style
2-Door Hatchback
Length
161.1 in.
Width
67.9 in.
Height
59.0 in. (59.1 in. Beetle Convertible)
Wheelbase
98.8 in.
Weight
2,884-3,248 lbs.
Transmission
5-speed Manual
6-speed Automatic
Engine
1.6L inline-4
1.8L inline-4 Turbo
2.0L inline-4
2.5 liter inline-5
Power
150 hp @ 5000 RPM
170 lb-ft @ 3750 RPM
Similar
Chrysler PT Cruiser
Mini Cooper
Mazda MX-5 Miata
Pontiac Solstice
Ford Focus
Honda Civic
Mazda3
Toyota Corolla
Scion tC
Hyundai Elantra
Designer
Freeman Thomas
J Mays
The Volkswagen New Beetle is a car that was introduced by Volkswagen in 1998, drawing heavily on the design cues of the original Beetle. Based on a Volkswagen Golf, the «retro» design proved to be more successful in some markets than in others. It is assembled at the VW Puebla factory in Mexico. The Beetle is known as the Coccinelles in France and the Maggiolino in Italy.
The big contrast between the New Beetle and the Classic Beetle is that, like most cars, the New Beetle has the engine in the front and storage in the back.
See Autopedia's comprehensive Volkswagen New Beetle Review .
Contents
1 Recent Changes
2 Styles and Major Options
3 Pricing
4 Gas Mileage
5 Reliability
6 Safety
7 Photos
8 Colors
9 Main Competitors
10 Hybrid Models
11 Unique Attributes
12 Resale Values
13 Criticisms
14 Current Generation: (1998–2011)

14.1 The New Beetle RSi
14.2 The Ragster Concept
14.3 Triple-White Edition
14.4 Origins

15 Worldwide
16 Design quirks and oddities
17 Awards
18 See also
19 External links
Recent Changes
After 11 years, the shelf life Volkswagen's New Bettle is drawing to a close. To commemorate the end of production, Volkswagen has announced 1,500 limited edition New Beetle Final Edition models. distinguishing them are a small number of upgrades and touches that include a special Aquarius Blue paint with a painted black roof on the coupe, and a two-tone Aquarius Blue and Campanella White paint scheme with a white top on the convertible. They also get individually numbered badges, fog lights, a sport suspension and unique 17-inch alloy wheels. Inside, the steering wheel features an individually numbered Final Edition plaque and in the case of the convertible, a white interior that matches the top. Prices for the coupe model start at $20,240, while the convertible model begins at $27,170.[1]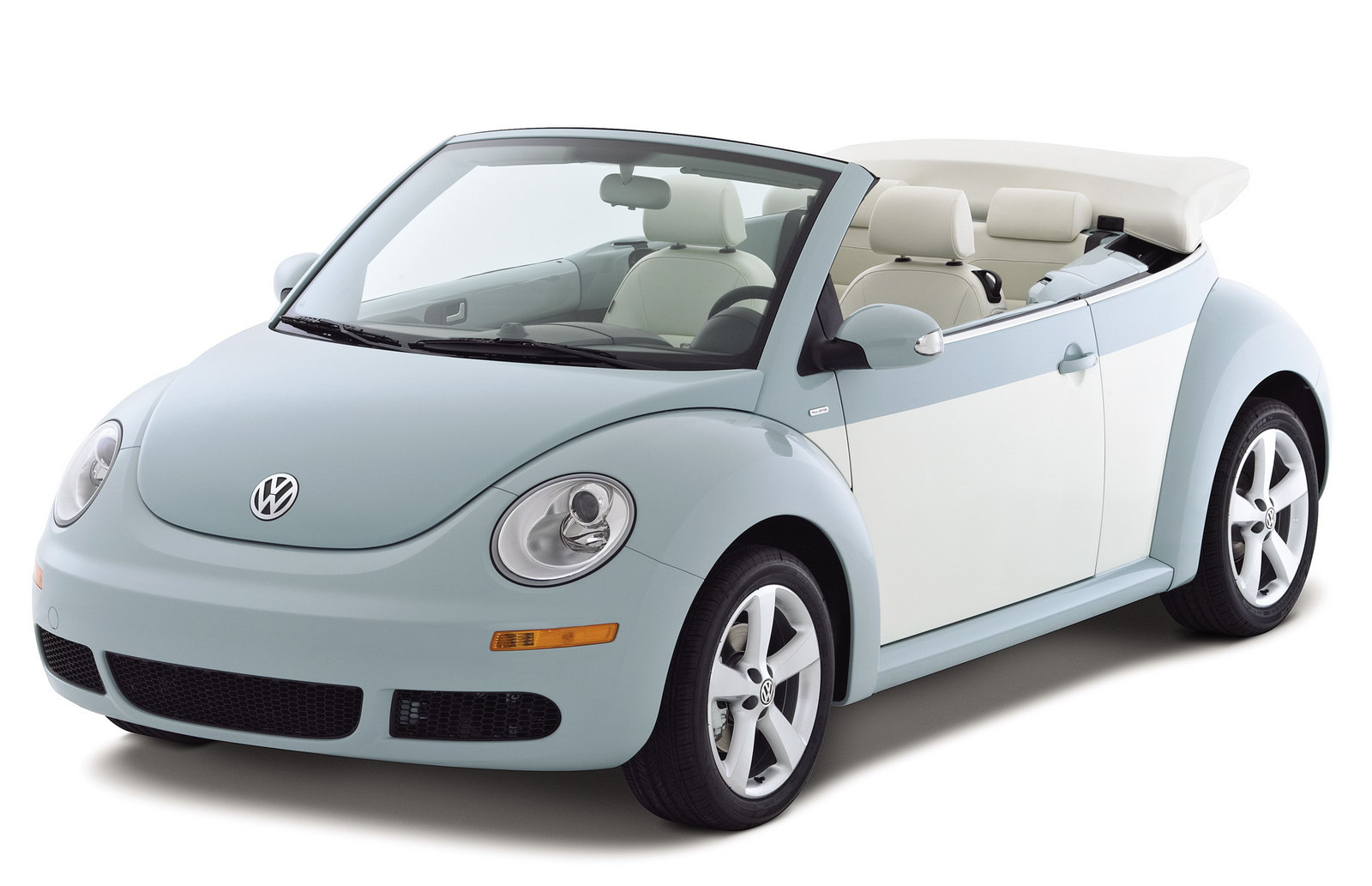 After receiving some minor cosmetic updates for 2006, the 2007 New Beetle remains virtually unchanged: new exterior colors have been added to the lineup, and the engine has undergone a slight improvement.
In March of 2007, Volkswagen unveiled a 3000 unit limited-edition version of the Volkswagen Beetle cabriolet colloquially called the «Triple-White» edition. As the name infers, the car features an all-white color scheme with the exception of the black dashboard and similarly colored canvas roof. The slip-on tonneau cover, however, is also in white.
Volkswagen New Beetle Blush[2]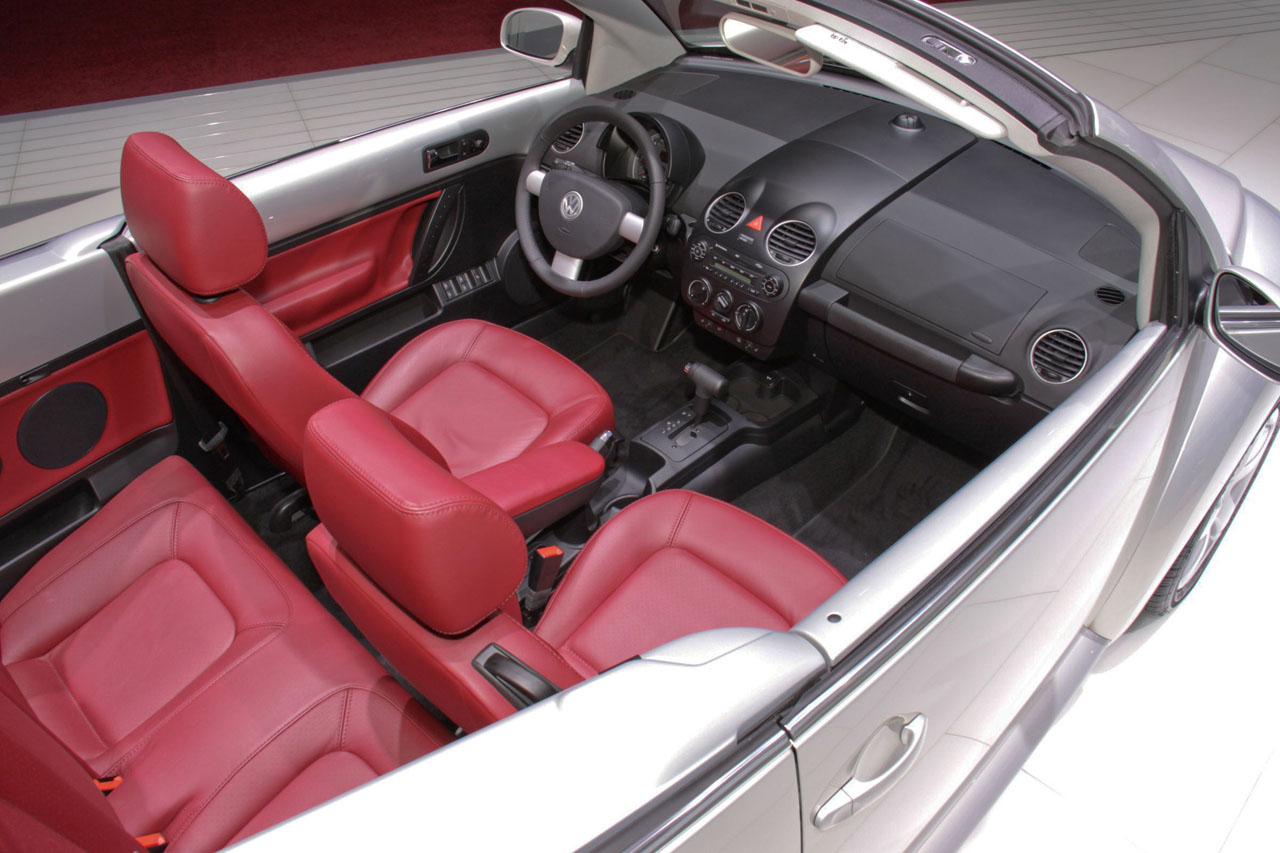 On November 2009, Volkswagen unveiled the Beetle 'Black-Orange' series with an asking price of €22,550 (around US$33,800) in Germany. [3]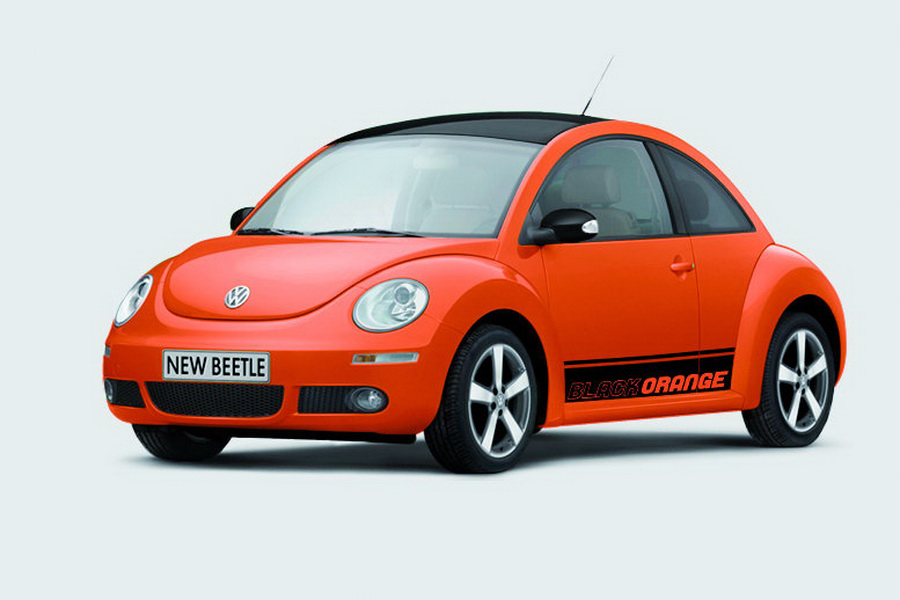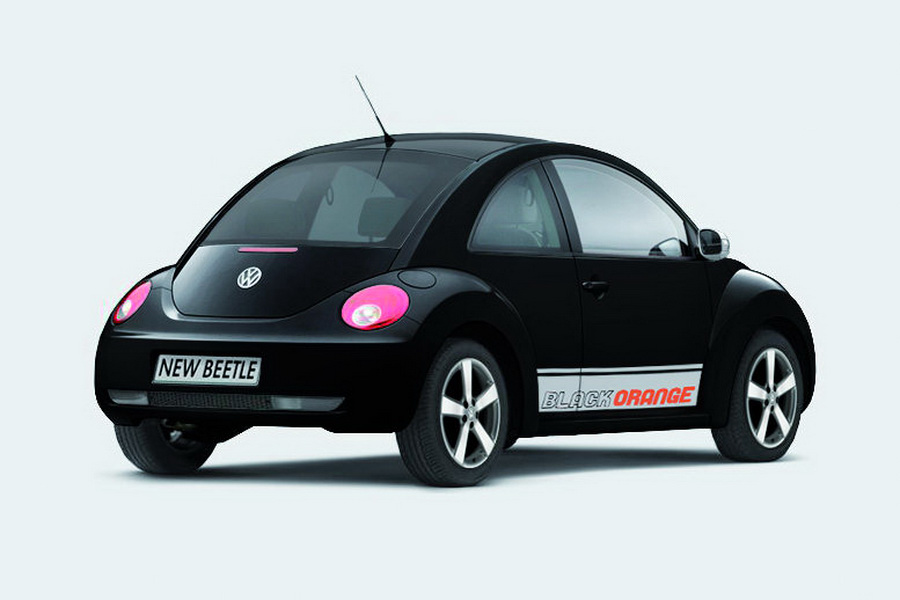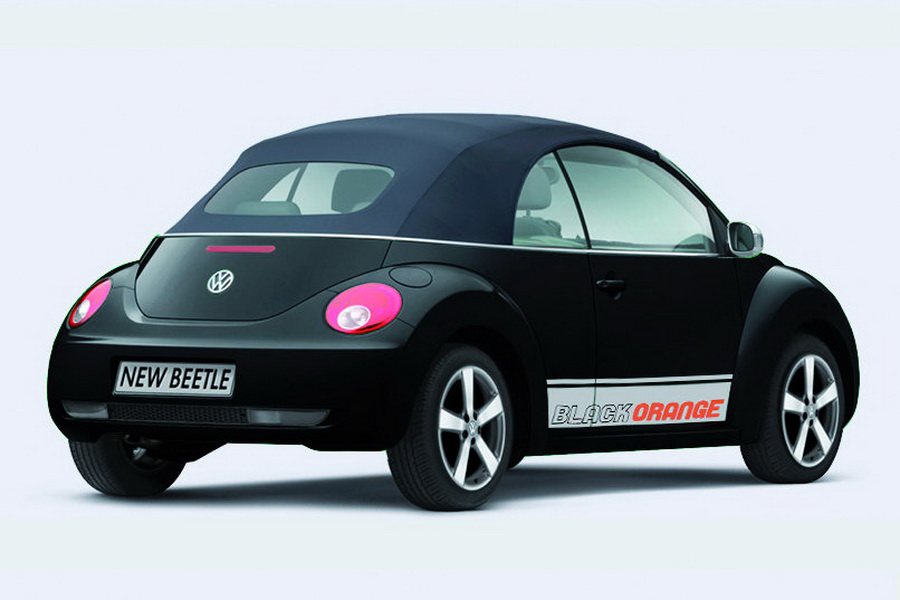 Styles and Major Options
The 2007 New Beetle comes available in four trims: the GL, GLS, GLS TDI, and GLS 1.8T. There are three different engines and three different transmissions to be had between them, but all are front wheel drive vehicles. In addition, all trims are available in a convertible body style. See the Safety section below for standard safety features.
2.0L 115hpI-4 engine
5-speed manual transmission w/OD
16″ steel wheels
6-way front bucket seats
Premium cloth seating and cloth door trim
Manual convertible roof
Premium AM/FM/CD audio system
Telescopic tilt steering wheel
Speed sensitive wipers
File:2007 New Beetle whiteright.jpg
2.0L 115hpI-4 engine
6-speed automatic transmission w/OD
17″ silver alloy wheels
Express open/close sunroof (hatchback models only)
Monsoon AM/FM/CD audio system
Cruise Control
[[image: GLS TDI
1.9L 100hpI-4 engine
5-speed manual transmission w/OD
16″ silver alloy wheels
Monsoon AM/FM/CD audio system
Cruise Control
1.8L 150hpI-4 engine
5-speed manual transmission w/OD
ABS & driveline traction control
Monsoon AM/FM/CD audio system
Pricing
Today's actual prices for the Volkswagen New Beetle can be found at CarsDirect.
New Beetle Trims
Gas Mileage
As seen on the FuelEconomy.gov website, the City/Highway MPG averages are as follows:
Reliability
The most recent model of the New Beetle with available long-term reliability data, the 2004 model, received an overall Green rating from Automotive Information Systems. The 2004 New Beetle did, however, experience moderate problems in the engine category. Reliability information for the latest models is not yet available.
RECALL ALERT (Number: 08V036000): The day after Valentine's Day 2008, Volkswagen issued a recall for 510 MY 2008 Volkswagen Beetle Triple White Editions. The problem is due to incorrect adhesive that was used to attach the roof spoiler, threatening to potentially become loose and either fall off the car or become a dangerous airborne projectile. The recall is effective February 29th.[4]
RECALL ALERT: On Dec 15, 2010 Volkswagen launched a recall affecting 228,236 Golf, Jetta sedan, Jetta Sportwagen, New Beetle and Rabbit models, manufactured between 2006 and 2010. The new Beetles equipped with the 2.5-liter engine may have a fastening clamp on a hydraulic hose that may also against a fuel supply line. The worst-case scenario is that the affected vehicles can catch on fire, due to a potential fuel leak. The safety recall is expected to begin on or before January 31, 2011. The German manufacturer can be contacted at 1-800-822-8987.[5]
Safety
The 2007 New Beetle received a 3-Star rating for rear side-impact crash tests performed by the NHTSA, but it fared much better in other categories. For all front-impact crash tests and tests for rollover, it received a 4-Star rating, and front side-impact tests yielded a 5-Star rating. Side-impact information was not available for convertible models, but every other test rating was the same as the hatchback model. Some of the standard safety equipment found on the New Beetle includes:
Front and rear anti-roll bars
Four wheel anti-lock brakes
Daytime running lights
Driver/passenger front-impact airbags
Driver/passenger side-impact airbags
Occupancy sensors
Ignition disable
Photos
Colors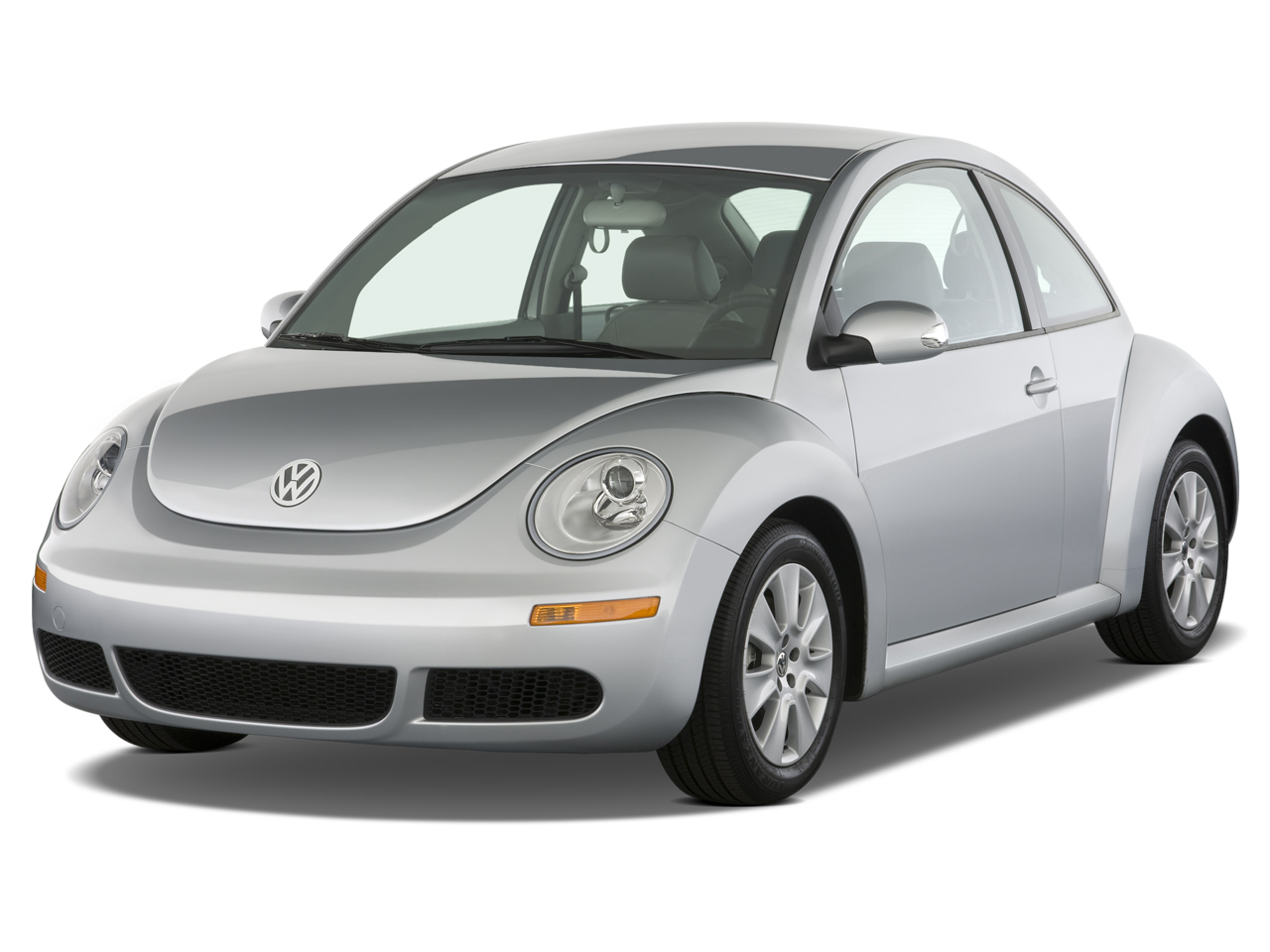 All of the New Beetle models are available in the same choice of colors, and a full list is viewable at CarsDirect.com. Some of the possible combinations include:
Black
Gecko Green
Harvest Moon
Platinum Gray
Reflex Silver
Salsa Red
Shadow Blue
Sunflower Yellow
Lemon Yellow
Canyonred Pearl Effect
Technoblue Pearl Effect
Black
Black/Cream
Cream
Gray
Main Competitors
Nissan Micra
Ford Figo
Toyota Etios Liva
Hyundai Getz
Mitsubishi Colt
Toyota Yaris
Honda Fit/Jazz
Tata Indica
Hyundai i20
Chevrolet Aveo
Hybrid Models
There are no hybrid models of the New Beetle.
Unique Attributes
The New Beetle is a retro of the legendary Volkswagen Beetle, so the reputation is very popular. It looks very cute and kids will love them! Because it definitely does look like a (kids) toy.
Resale Values
According to Kelley Blue Book, «the New Beetle is expected to retain an excellent five-year resale value, holding 64 percent of its price at 24 months and 48 percent at 48 months. The convertible and TDI models hold even higher values. Similarly priced vehicles that also hold high resale values include the MINI Cooper and MINI Cooper convertible, Mazda MX-5, Honda Civic Si and Scion tC.»
Criticisms
«The sharply sloping roofline curtails [rear] headroom.» — Automobile
«Rear windows do not open; so rear-seat passengers might feel a little claustrophobic on summer days.» — New Car Test Drive
«If you need on occasion to carry four adult passengers, the New Beetle's rear seats offer very little headroom and the cargo area is tiny. The long dash takes some getting used to as it places the windshield at a considerable distance from the driver and front-seat passenger.» — Kelley Blue Book
«Awkwardly placed [seat] recliner knob.» — Road Test Online
'The car is known as the girl's car for many people,despite that it has a flower on the dashboard.
Current Generation: (1998–2011)
Strong public reaction convinced the company to move the car into production, and in 1998 Volkswagen launched the New Beetle, designed by J Mays and Freeman Thomas at the company's California design studio. The New Beetle is related to the original only in name and appearance (including the absence of a car emblem script with the exception of the VW logo): under the hood, it is a modern car in every way, based on the Volkswagen A platform (Mark 4 Volkswagen Golf). Still, it carried many of designs reference to the old Beetle: separate wings, vestigial running boards, sloping headlamps, large round tail light, as well as a high rounded roofline that provide enough headroom for tall drivers.
In stark contrast to the original, the U.S. Insurance Institute of Highway Safety gave the New Beetle among the best safety ratings in its class at the time of its launch.
VW New Beetle MY2006
The car was widely considered a flop in Europe, but it was a success in the United States. There, marketing campaigns enhanced the continued goodwill towards the original, and helped the new model to inherit it. The Volkswagen New Beetle was Motor Trend's Import Car of the Year [6] for 1999. A convertible version of New Beetle started production two years after launch, after many buyers had aftermarket conversions.
The New Beetle RSi
VW New Beetle RSi
Between 2001 and 2003 Volkswagen produced 250 limited edition New Beetles with the designation RSi in Europe. The RSi was powered by a 225 hp 3.2 liter V6 engine mated to a six-speed gear box and Volkswagen's all-wheel drive system 4motion . It had a Remus twin-pipe exhaust. The suspension was tuned by Porsche, featuring a severely altered rear suspension geometry more geared to the race track and a rear cross member behind the rear seats. Visually, the RSi differed in it's 80mm wider fenders, unique front and rear bumpers, a rear diffuser, large rear wing, and 18×9 OZ Superturismo wheels with 235/45ZR-18 tires. Inside, it was trimmed in carbon fiber, billet aluminum, and bright orange leather. The front seats were Recaro racing shells. Notable draw backs were loud cabin noise and low rear tire life. Curiously, in Mexico, although being a country very attached to Volkswagen, there are RSi that have not been sold since 2001 . This is probably due to its $58,000 USD price tag.
The Ragster Concept
The VW New Beetle Ragster
At the 2005 North American International Auto Show, the Volkswagen New Beetle Ragster concept car was introduced. It was supposed to be a preview of the future design of the New Beetle. The base of the Ragster (a ragster is the cross between a ragtop and a speedster) was a regular New Beetle Convertible. They made some changes, such as shortening the A-pillar, penning a new U-shaped roof, and created a unique paint job with silver double stripes. The interior is different compared to the original New Beetle, such as its 2+2 seater and distinctive control dials. Another item of interest is that the Ragster's rear-view mirror is mounted on its dashboard. The Ragster's profile is lower than that of the prior New Beetle.