Used Volkswagen Polo (Mk5, 2009-2017) review
The ageing Volkswagen Polo is still a front-runner in the supermini class, but rivals are cheaper
Sensible image
Well-built cabin
Spacious for a supermini
Pricey
Dull to drive
Gutless entry-level engine
Verdict
The fifth generation was, at last, a Polo that felt like a baby Golf, rather than a slightly posh supermini. It came with a big-car feel, big-car equipment if you bought a higher-spec model and, while it wasn't class-leading to drive, you could have some fun in one if you got a sportier model. What matters to most owners is that the Polo is as easy to drive as it is to own. A worthy winner of the 2010 World Car of the Year award, the Mk5 is still very desirable.
Which one should I buy?
Best Volkswagen Polo for low costs: 1.2 S 3dr
Best Volkswagen Polo for fuel economy: 1.4 BlueMotion Tech SE 5dr
Best Volkswagen Polo for driving fun: GTI 3dr
Home in on the TSI or TDI models because these combine plenty of punch with decent fuel economy. The other engines are okay but the 1.2-litre isn't especially perky; the 1.4 is noticeably better.
There's a lot more demand for five-door cars, which are much easier to get in and out of, but the three-door looks more stylish and in theory is slightly cheaper. Entry-level Polo S models are spartan; they get a DAB radio and central locking, but unless you buy the S A/C edition, there's no air-conditioning. BlueMotion trim adds alloy wheels, as well as air-con, cruise control and electrically adjustable door mirrors.
More reviews
Car group tests
Ford Fiesta ST vs Volkswagen Polo GTI vs Hyundai i20 N: 2022 group test review
Volkswagen Polo vs SEAT Ibiza vs Hyundai i20: 2021 group test review
Vauxhall Corsa vs Renault Clio vs Volkswagen Polo
In-depth reviews
Volkswagen Polo review
Volkswagen Polo GTI review
Road tests
Used car tests
The SE comes with powered rear windows and climate control, while the SEL has an upgraded interior and multimedia system.
A 2015 facelift kept the Polo looking fresh and boosted its charm, so it's worth choosing a post-facelift example over an earlier version. We named it our Supermini of the Year in 2016.
What are the alternatives?
The Ford Fiesta is all the supermini you need as it looks smart, is superb to drive and comes with plenty of kit if you avoid base models – plus you get a lot more car for your money than if you buy a Polo.
But the Fiesta isn't a premium choice; if that's a priority you need to look at the Audi A1, which shares much with the Polo and is a true high-quality product. So, too, is the MINI; although it's not the most practical car, there are plenty for sale. The DS 3 – initially badged as a Citroen – strikes a good balance between premium feel and value for money. It comes in cabrio form, unlike the Polo, but has no five-door option.
Kia Rio vs Volkswagen Polo vs Suzuki Baleno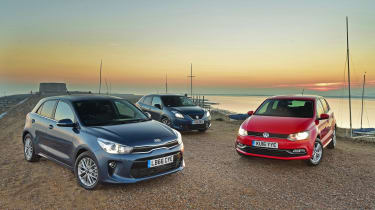 With a new Kia Rio on the market, we were keen to find out if the new Korean supermini could topple the Volkswagen Polo in the increasingly congested supermini class. A tough ask, which is why we also wheeled in the Suzuki Baleno as a budget rival to give the Rio a fighting chance of success. Even in its advancing years, the Polo still set the supermini standard. Read the full test.
Citroen C3 vs Hyundai i20 vs Volkswagen Polo
Using styling inspired by the C4 Cactus, the new Citroen C3 represented a big change over its dull predecessor. This wasn't enough for the C3 to beat the Volkswagen Polo, which won the test thanks to its blend of practicality, efficiency, price and performance. This left the Hyundai i20 to take third place behind the Citroen. Read the full test.
SEAT Ibiza Cupra vs Volkswagen Polo GTI
A clash of two hot hatches from the same stable. Both the SEAT Ibiza Cupra and Volkswagen Polo GTI use the same 1.8-litre turbocharged petrol engine, but the SEAT undercut the Volkswagen by around £1,000 and had a more youthful image on its side. It meant that the Ibiza Cupra won by the tightest of margins, but the Polo had the edge in terms of quality and refinement. Read the full test.
Volkswagen Polo vs Peugeot 208
Diesel superminis are a dying breed, but things were a little different in 2016 when we tested the eco Volkswagen Polo against the Peugeot 208. Powering the Polo was a 1.0-litre turbocharged petrol engine, while the 208 featured Peugeot's entry-level 1.6-litre HDi diesel. We said the petrol engine gave the Polo Bluemotion a new lease of life. Read the full test.